Mounting Jockey Wheels on a boom.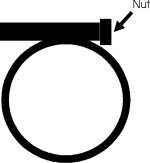 All of these examples use the same size tubing or next size up as what they're mounted on. The strap is made by cutting about a 40mm wide piece of the large tubing. Weld on a small tube along with a nut at the end of that tube. Alternatively use a long nut.




Split both tubes with a metal saw to make the clamp gap. If using the long nut, drill out the thread on the side with the longest tubing. On a few occasions I've found I needed to split the tubing first and open the gap a little before welding on the mount tube.





Using 2 wheels on different sides. See pic 1, pic 2, pic 3 and drawing. I mount the wheels close enough to capture the chain so it can't jump the groove.
Using an exhaust bracket. The jockey wheel/s could be placed on the mount bolts instead of the centre of the bracket if required.
Thursday, 29 January 2009