Chapter 7, Part 2, Section 1
Constructing the Drop-Outs
Version 1.0
Written by Rickey M. Horwitz
Notice
The material contained in this section is protected by U.S. copyright laws. Any unauthorized duplication or publication of the material contained in this section is prohibited by law.
---
Introduction
---
The dropouts for the Thunderbolt are both constructed out of .250 thick, 6061-T6 Aluminum stock. Unlike conventional drop-out designs which interface both seat and chain stays, the Thunderbolt drop-outs interface only the chainstays. Not only does this design offer excellent strength, it also gives the trike a touch of artistic styling.
---
Materials Required
---
---
Required Tools
---
Optional
---
Construction
---
The fastest and easiest approach to building the drop-outs is by taking the actual drawing, glue it on the aluminum stock and simply use it as a template. I have included some dimensions so that the builder can scale the drawing to the proper size when printing. Upon printing the drawing use a ruler and verify that the dimensioning is within spec, resize as required.
Below is a drawing of the Dropouts in a Microsoft Windows Metafile (*.WMF) Format. Click on the filename below to download: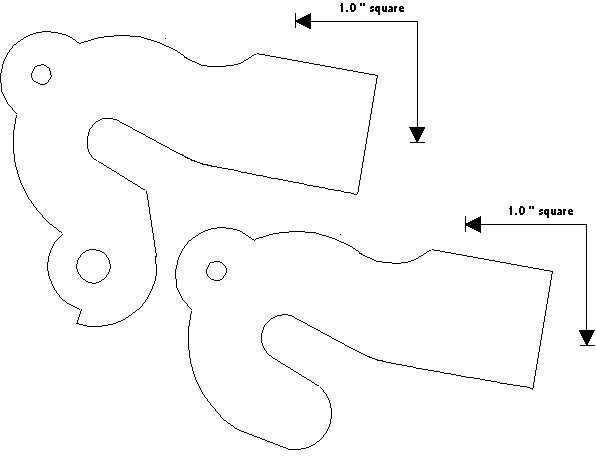 Prior to cutting the Drop-Outs, drill out all required holes. These include both rack/fender mounts using a #29 drill, the Derailluer Hanger using a 23/64" thread and both Axle Channels (as shown below). Once these hole have been made, the Drop-Outs are ready to be cut using a metal band saw. As shown, the 3/8" holes provide a perfect radius for the axle channels. With a little patience 85% of all the shaping can be accomplished using the band saw. For final finishing use a file or belt/disc sander.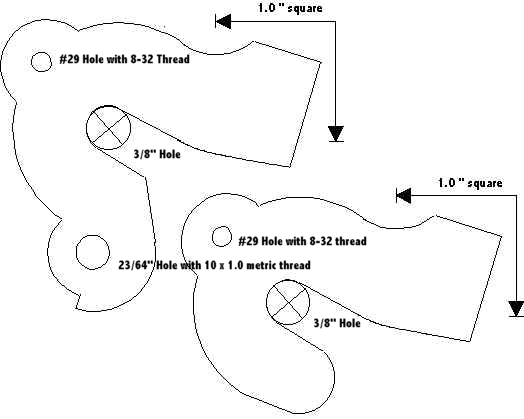 Upon final finish, tap the rack/fender mounts using a 8-32 tap. Tap the derailluer hanger using a 10mm x 1.0 metric Tap. the Drop-Outs should now be ready for Stay assembly.