---
Build Your Own Recumbent Trike
Written By Rickey M. Horwitz
---
version 2.1
Warning

The material contained in this section is protected by U.S. copyright laws. Any unauthorized duplication or publication of the material contained in this section is prohibited by law.
Disclaimer
I am not responsible for anyone's unfortunate circumstances or stupidity! I do not claim that these plans or data are perfect and without error.
---
Introduction
---
Welcome to my web page hosted by the IHPVA. My name is Rickey Horwitz, the former owner of Practical Innovations. Contained at this site are detailed plans on how to design and build a recumbent tricycle. The contents of this site used to reside on my own web page, but I have little time now to support it directly. However, if you have any questions concerning this material, please contact me at rhorwitz@austin.rr.com. To learn more about me and my former company select Who Am I? .
The drawings and specifications offered on this web page are for building an advanced version of the tried and true Thunderbolt Sports Recumbent Trike. The original design dates back to 1994. However, even today the performance of this trike is still impressive. I am confident that you shall find my documents exceed in quality and detail to any plans available free or not.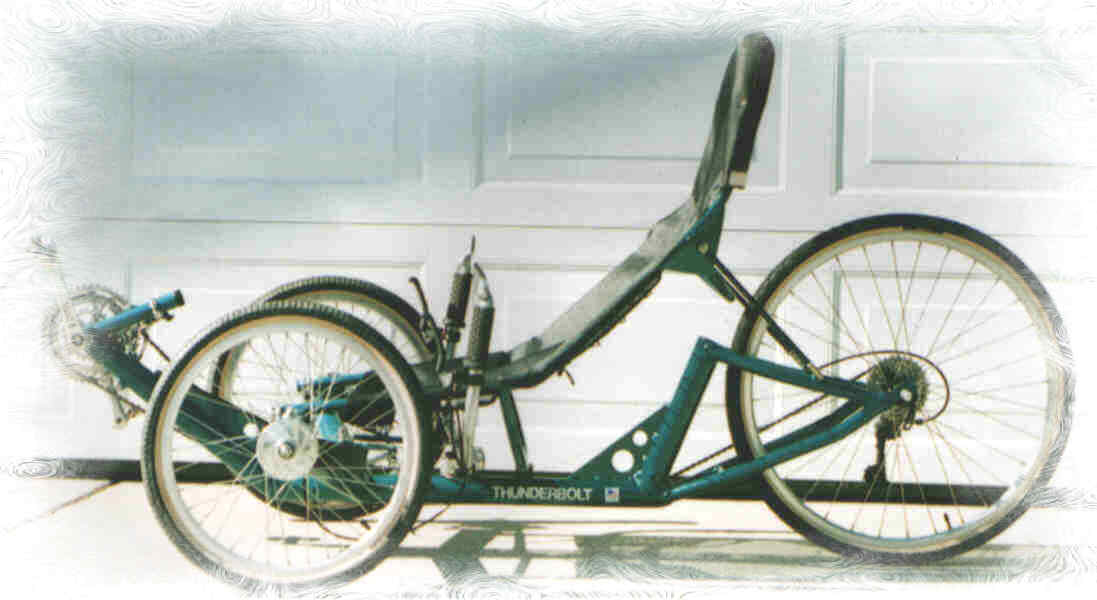 For a specification of this trike, please checkout my old Thunderbolt brochure.
If you have any questions concerning these plans, please email me at rhorwitz@austin.rr.com
---
Updates
---
After 6/15/2002, I will no longer update this project. Several years ago I made a promise to make these plans available to the public at no cost. I have succeeded in doing this with no compensation other than the bragging rights to claim I have 'wrote the book on recumbent tricycles'. Please enjoy.
---
Chapters(Some items have not been completed)
---
Chapter 1 Choosing Materials(Updated)
Chapter 2 Welding Technologies
Chapter 3 Recumbent Trike Design
Chapter 4 Thunderbolt Design Overview
Chapter 5 Parts Required
Chapter 6 Tools Required
Chapter 7 Fabrication Instructions(under construction)
Part 1 Constructing the Main Tube Sections
Part 2 Constructing the Trike Rear End
Section 1) Fabricating the Drop-Outs
Section 2) Fabricating the Seat/Chain Stays
Section 3) Fitting the Stays to the Frame
Part 3 Fabricating the Frame Web Gussets
Part 4 Building/Modifying Hubs for Stub Axle Usage
Part 5 Selecting and Building the Steering System
Section 1) Building the Steering Knuckles
Section 3) Over Seat Steering System (Work in process)
Section 4) Under Seat Steering System
Part 6 Building the Bottom Bracket Assembly
Part 7 Building the Seat
Part 8 Assembling the Chain Management System
Part 9 Final Assembly and Adjustments