---
Chapter 7, Part 2
Constructing the Trike Rear End
Version 1.0
Written by Rickey M. Horwitz
Notice
The material contained in this section is protected by U.S. copyright laws. Any unauthorized duplication or publication of the material contained in this section is prohibited by law.
---
Introduction
Building the Seat and Chain Stays is not an easy task. The complete assembly requires a total of seven compound bends and comprises of five individual tubes of aluminum. To make matters even worse, a total of seven miters are required to fit this assembly together. If that wasn't enough, the whole assembly must be TIG welded (including a pair of dropouts). the end results will be well worth the effort, as these stays are of the finest design in the recumbent industry.
This section constitutes a major effort on my part, as precise detail and instruction are required. Pay careful attention to all instructions. If you feel lost, please E-mail me.
Design Overview
The illustrations below represents all aspects of the trike rear-end. Regardless of how each part is fabricated, the end results should appear as dimensioned in these drawings.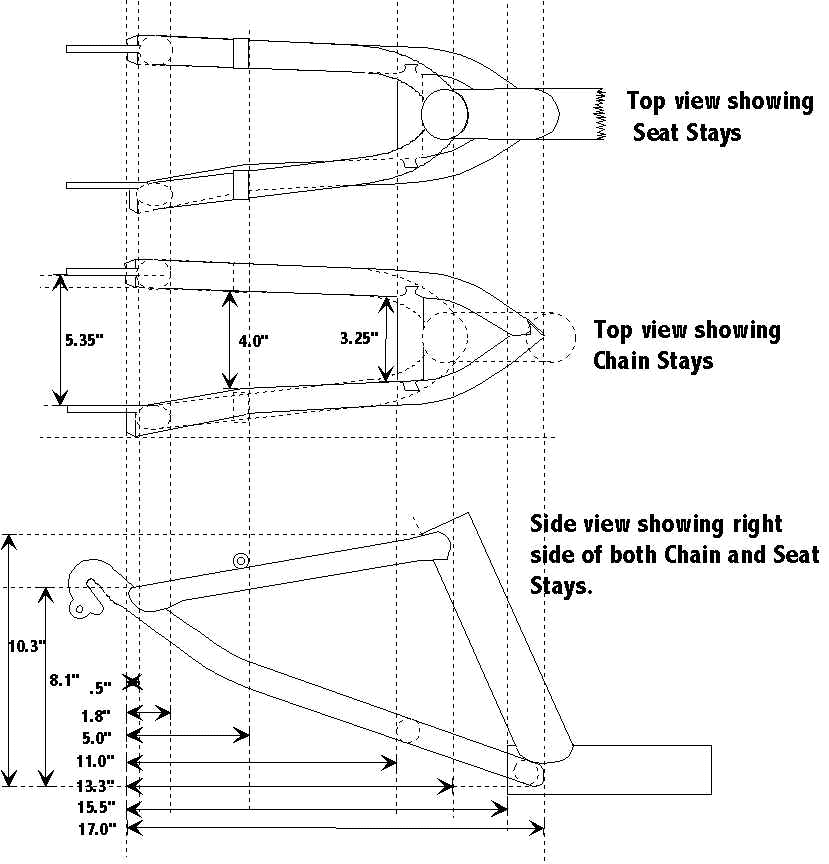 The above drawing dipicts a side and top view of the chain stays.