The Thunderbolt

Designed by
Rickey Horwitz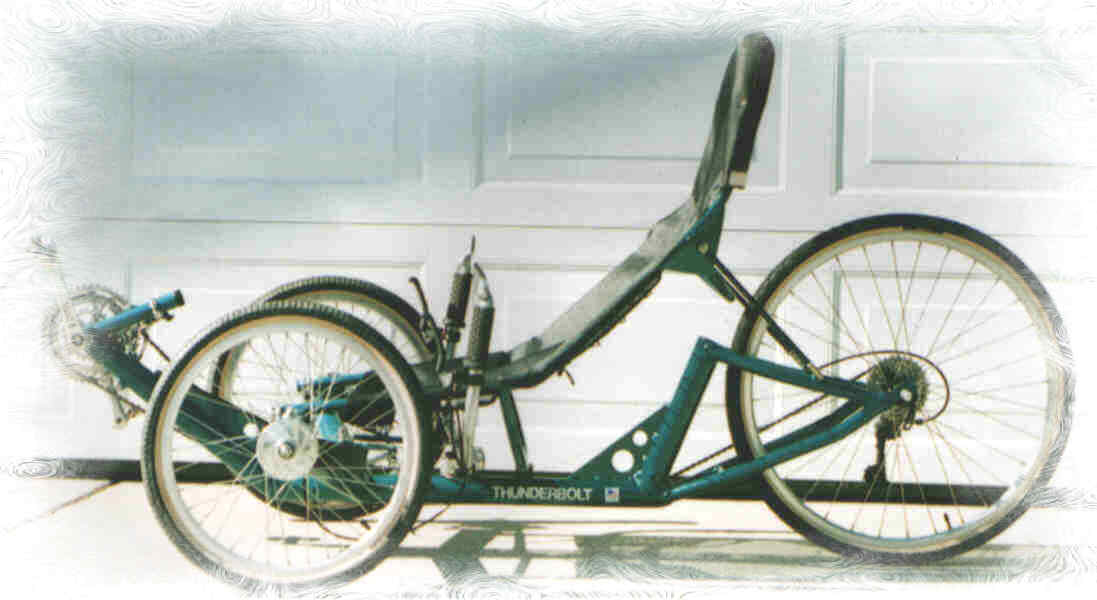 Steering System

The Drivetrain Subsystem

The Frame and Chassis

Specifications

Go back to Main Page
---
Photo Gallery
---
Introduction
---
As an affordable approach to owning an exotic HPV, we have experimented with several new tricycle designs that could offer all-out performance without costing a fortune. After many painstaking experiments and prototypes, we have perfected a new trike design dubbed the "Thunderbolt". Not only is the Thunderbolt an ultra high performance recumbent tricycle, it also shares the award winning beauty of its predecessor, the Zephyr. At a true 35 lbs, and optimized geometry, the 'T-Bolt' is foreseen as a new force to be reckoned with.
Our main goal is to provide a product that offers value and purpose. We envisioned a practical recumbent tricycle that can compete with the venerable bicycle. To meet this challenge, our Zephyr has gone through many refinements, making it more superior than anything available. However, these refinements have increased the cost placing our product out of reach for most avid cyclist. The all-new Thunderbolt brings back the virtue of our namesake; it is a vehicle that is both practical and extremely innovative.
Performance!
The Thunderbolt gives performance, reliability and economy. Weighing in at a scant 35 lbs. (34 lbs. with the GT option) and having a fully rigid and triangulated rear stays, the Thunderbolt's performance rivals that of the legendary Windcheetah, but cost thousands less!
Styling
The design of this sports trike is based on our award-winning Zephyr. The sleek lines and fresh sporty looks make the Thunderbolt the center of attention everywhere!
Total Value
As with our Zephyr, our Thunderbolt offers more features and quality for less money than any other trike on the market. Shop and compare, we are confident that no other manufacturer can offer an ultra light weight trike with a top notch fully heat treated aluminum frame for under $2,600.
---
---
The Thunderbolt uses a fully reinforced, TIG welded, heat-treated 6061-T6-aluminum frame. The basic chassis is identical to our Zephyr Mk III. Therefore, it offers both unsurpassed performance and strength. All critical stress points on the frame are reinforced using web gussets. These gussets provide extra support for better stability and handling and ultimately prolong the frame life. The TIG welding process is the choice for all professional frame builders. Upon completing all welding processes, the frame is solution and precipitated hardened for maximum strength and durability. The last process involves bead blasting and ultimately powder coating our frames so that they resist scratches.
The Thunderbolt employs a telescopic bottom bracket boom that allows the trike to be adjustable for different size riders. The chain angle to the boom has been optimized for reduced flexing so that pedaling efficiency is optimized. Two frame sizes ensure the right fit for most riders.
Seat
For convenience, the Thunderbolt's seat frame is removable from the main trike frame making it easy for storage and shipment. The webbed-gusset reinforced, heat-treated, 6061-T6 aluminum seat frame ensures maximum strength and long lasting life. A five point mounting system on the seat frame restricts forward/aft motion while maintaining some lateral movement that would normally be transmitted to the rear wheel on a fully rigid system
The ergo-designed seat sling is constructed from lightweight, breathable nylon mesh, that offers uncompromised comfort and efficiency. Best of all, our seat offers full support for the rider's head and neck using our padded head rest system. The padding also gives the base of the seat some deflection adding to a comfortable ride. However, the back of the seat remains firm so that the rider's energy is transferred to the pedals and not into the seat. So why settle for a trike manufacturer that offers a cheap inferior potato sack with shock cord, when you can have a superior seat that fits and feels great too.
---
---
Steering is achieved by using Under Seat Steering (USS). The vertically mounted steering handle is adjustable to fit almost everybody's needs. Using precision rod-end bearings, the steering handle is linked to a single-ended bell-crank. In turn this bell crank links both trailing arm steering knuckles. The fined tuned Kingpin orientation provides a 12-degree caster and kingpin inclination. Full Ackerman steering compensation eliminates tire scrub during tight turns. For fast or steady response, the steering gain is also adjustable. For additional convenience, the tillers can be adjusted forward or aft to fit the comfort of the rider. As an option, we also provide a single handle tiller for those preferring Above Seat Steering (ASS). This option saves almost 12 oz of weight making the vehicle weighs at slightly over 34 lbs.
Adjustable Camber and Caster
For total front-end geometry control, we have designed a front-end system that can be altered to your desire. For optimum cornering, the camber can be set to a negative position or a neutral position for normal commuting or touring. For quick steering response, the caster angle can be set to the 18-degree mark.
---
---
Conscience of efficiency and weight savings, we have simplified the vehicle's chain management system so that only a single set of chain idler pulleys is needed. We use Polyethelene tubing for the passive and active sides of the chain as to extend its longevity.
Components
For system components we use the Shimano RSX/RX Derailluers as the baseline of our drive-train components. The 21-speed drive train is controlled by use of either Sachs Grip Shifts or Shimano Bar Con handles. Of course our customers desiring better components can choose the GT package that includes Shimano XT Derailluers, Ritchey cold-forged Cranks and SPuDs pedals.
Front Brakes
Drum brakes are manufactured for bicycles only. In most cases it is difficult to purchase a left and right side. Therefore, most trike manufacturers simply reverse the drum caliper. For the sake of dual symmetry performance and quality, we have redesigned the brake caliper to produce an actual left and right side. The results are a pair of brakes that have an equalized feel.
For added reliability, we machine the hubs to accept an oversized ½ inch straight axle. Not only is this axle stronger, it also makes it convenient to service. For added longevity we use precision sealed bearing races that are designed to withstand radial side loading.
---
---
Components and specifications listed below subject to change due to availability.
Frameset: TIG welded 6061-T6 Aluminum, Fully Solution Heat Treated and Artificially aged after welding
Finish: Powder Coated, Bright Red or optional Metallic Teal
Braze-Ons: None
Steering System
Control: Single underseat U bar connected to bell crank and trailing arm
Type: Inclined Kingpin with adjustable Caster at 12 or 18 degrees
Dimensions
Weight: 34.3 Lbs for GT; 35 Lbs for Standard model
Total Length: 74 inches
Total Height: 40 inches
Total Width: 35 inches
Ground Clearance: 4.0 inches
Wheel Base 43.5 inches
Wheel Track 32.0 inches
Turning Radius 13 to 15 ft.
Derailleurs:
Front Shimano Deore XT; for GT; RX 100 for Standard
Rear Shimano Deore XT for GT, STX or RSX for Standard
Crankset
Crank: Ritchey Logic 46/36/24 tooth for GT, RSX (46/36/26) for Standard
Bottom Bracket: Shimano UN 71/Suntour Micro-lite
Pedals: Ritchey Logic SPD for GT, Odyessy Svelte for Standard
Brakes
Front: Dual Sachs VT 5000 modified
Rear: None
Controls
Brake Handles: Suntour XC-Pro, 4 Finger, padded levers
Shifters: Shimano Ultegra Bar Cons for GT/Grip shifts for Standard
Wheels
Front Rims: 20 inch x 1.5 Rigida , box channel construction, alloy
Tires: ACS , High Pressure (100 PSI) 20x1.75 For GT/Primo V Monsters 20x1.75 for standard
Spokes: Straight 14 gauge, 36 ea. Stainless steel 165 mm. 2 cross lacing.
Rear Rims: 26 inch Mavic M50 for GT / 26 inch Rigida, box channel, alloy for Standard
Tires: Kenda 26x1.25 City Slicker type;
Hub: LX hub w/8 spd XTR 12-28 cassette for GT/ STX hub w/7 spd HG50 12-28 cassette for Standard
Spokes: Straight 14 gauge, 36 ea. Stainless steel 260 mm. 3 cross lacing
Chain System:
Chain KMC 70S
Chain Idlers 3 inch Delrin pulley front, 2 inch Delrin aft; dual bearings for both pulleys; Polyethlene tubing for chain guide.
Warranty: 5 years on frame; 3 months on components
---