Australian Power Assist
Below is a list of Cycle Power Assist options available in Australia as I've experienced them. They are in no particular order of preference - just take them as they come and some may now be out of date. Sorry about that!!
http://www.users.bigpond.com/solarbbq/bikesale/bsale.htm
This would have to be the cheapest hub motors I've seen. Dale Monger is importing these and a lot of positive comment is said on the power assist internet mailing list about them. Dale said recently - All the motor kits will be the same price, i.e - AUS $550. For more information you can view the Crystalyte site at www.crystalyte.com. If you have any specific questions feel free to E-mail me. dale_monger@yahoo.com.au I have ordered three front hub motors and two rear hub motors (with base for cassette cluster + integrated disk), but the order has yet to be shipped. All kits are for a 26 inch wheel. If you had a specific requirement, I may be able to get the order changed. I also have a number of prismatic NIMH batteries and Lithium Polymer batteries that I am currently testing and intend to sell.
Oatley Electronics has several motors and speed controllers.
POWERFUL DC MOTORS / GENERATORS: The 200W motors are the same motors used in our scooters. The 300W 24v motors are identical in size to the 200W but should not be used as replacement motors for the scooters as there is a 200W limit in most Australian states. They are very powerful for their small size and although they are built for 24V use they still produce lots of torque at 12V. They start rotating at only 0.5VDC, (yes 1/2 of a volt). We discovered that these motors would make great generators . When the 200W and 300W motors were driven at a low speed with a cordless drill they produced roughly the same results\: 6V open circuit, 5V @ 5A and 4V @ 8A; the 100W motors were not tested. Also Rear drive parts as used in our small scooters. Includes 100W motor, belt and rear wheel (with bearings and pulley)
SPEED CONTROLLERS: Speed controller modules for the 24V dc motors we stock. They come with a connection diagram. Only 7 wires are used for the speed controller function: Battery connections, Motor connections, and 3 wires for the motor speed controller potentiometer. These units require a 4K7 or 5K pot & a 2k7 resistor (not supplied) to replace the original throttle. Other optional connections are for disabling the controller (switch on brake), power for auxiliary circuits etc. We do not supply any additional connectors, just the modules as pictured. Connectors can be cut-off from the bigger module, the smaller module easily comes apart (4 screws) and the terminals can be easily be soldered to.
PO Box 2014, Parkdale 3195
Showroom: 15/91 Tulip St, Cheltenham 3192
Ph: 03 9584 3000
Fax: 03 9584 3044
Mobile: 0418 341 705
info@electricbicycle.com.au
Motorised Bicycles Australia Pty Ltd
195-199 High Street
Willoughby NSW 2068
info@moped.com.au
Phone: +61 2 9958 1465
Fax:: +61 2 9967 3143
Ah 0417 223 852
Available
Currie Technologies Australia - US Pro Drive
Hshen Lim
Phone: 03 9279 3973
info@currietech.com.au
Level 1, 141 Osborne Street, South Yarra Vic. 3141 Australia
Currie Technologies are the manufacturers of the world famous US ProDrive propulsion system for bicycles. The US ProDrive allows the end-user to convert most standard 26" or 700c 36 spoke bicycles to electric power and has the maximum amount of power allowable for Australian roads without the need for license or registration. The kit includes all items necessary to convert most bikes including a battery pack, the motor/electronics unit and the speed controller, all of which takes less than half an hour to install. A US ProDrive equipped bicycle has a range of 20-30km and a cruising speed of 25km/hr.
Other possible Currie dealers
Millennium Electric Trikes & Bikes Australia
Barry Smith
50 Verdoni St, Bribie Island, Queensland 4507
07 3408 6044 - Fax 07 3408 7433 - Mob - 0418 670 734
US Pro Drive kit ~ $1300
Darryl Shelswell on 1/2001 said: - This shop has a very large range of bikes and trikes set-up with motors. 3 trikes US PRO, 1 petrol cruiser, 2 petrol rotary, 8+ bikes US PRO (mountain and folding bikes, 1 tandem bike, US PRO kit form, 2 boxes with US PRO kits. Some info I asked, Battery 2 X 12v 12amp (new kit to come out soon with 30amp? batteries) Battery pack weight about 10 kgs, Max speed and range 0 to 25 kph, Battery range (shop tests 23 to 30 k) power only, US Pro Drive Electric Kit Price $1300 Kit fits onto 36 spoke wheels (shop states they have fitted motor to a 20" wheel.) Shop showed controller working from 0 to max speed did not seem to be like a cruise control (drive wheel up in air not under load) The factory fitted bikes have a fitting like a disc rotor on the left side. Shop said hub has a left and right-handed thread one side right (for pedaling) the other side left (for motor). This is for the cog set-up can be screwed on. Shop thinks they can get the hubs in. Other power assist motors coming soon like Honda 4 stroke using a drive system (like US Pro) + others using front wheel. Rotary petrol kit comes with 26" wheel. Price $1300

Leichester Cycles Burnie
Rod Leicester
17 North Terrace, Burnie, Tasmania
Ph/Fax 6431 3530
US Pro Drive kit ~ $1300


Effortless Cycles
11 Honeysuckle Grove, Evandale, Tas 7212
Ph 03 63918271
Fax 03 63918227
Email: effortlesscycles@bigpond.com
Shop 15, Noosa Harbour Marine Village
2 Parkyn Crt
Tewantin 4565
Tel: (07) 5449 0520
Mobile: 0409 490 520
Email: info@powerandpedal.com
Unit 3/26 Central Park Avenue, Ashmore, Qld 4214

Ph 07 5527 9866 - Fax: 07 5527 8352

- info@rotarybike.com

- http://www.rotarybike.com
Dave Rutledge
Ph/Fax 6247 3445
Email: drutledge@mpx.com.au
37 Cirius St, Howrah (Hobart), Tasmania
Available: Authorised Agents for Sachs bicycle motor kits
POWER BIKES
No registration, Bernardi alloy engine, 90km per/litre of fuel, manufacturers 12 months warranty, full suspension, V-Brakes, alloy frame, 18 speed gears, $2400 including GST.
The CV Centre, State distributor
Devonport
Tasmania
Ph 03-6424 4544
ED This is a roller on the tyre petrol powered motor that mounts on/near the bottom bracket of the bike. If I've got it right I've heard it called by another brand name Kangabike and can be jump started using the momentum of the bike rather than pull starting.
Pedal Ezy
Manufacturer - Adrian Quain
N.S.W. PHONE 02 49525900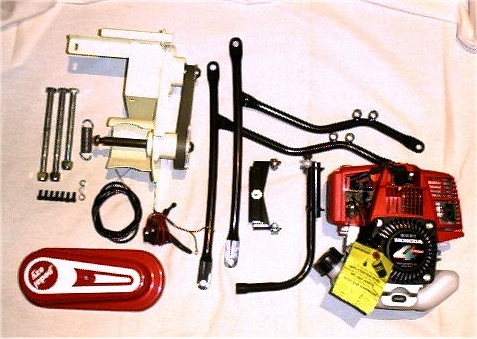 FAX 02 49526588
EMAIL steele@idl.net.au
South Australian Agent
Power Cycles
Chris Franson
Phone/fax 08 83472702
Mobile: 0409 097 228
EMAIL powercyc.@arcom.com.au
Cost - $1150 plus GST and frieght.
It is also mentioned at:
Aerochute Industries Pty Ltd
12 Acheson Place, North Coburg, Victoria, 3058 Australia
Phone: (03) 9354 2612 ~ Fax: (03) 9354 2795
Ph: 03 9354 2612 Fax: 03 9354 2795
info@aerochute.com.au
Also sold at Power and Pedal.com
In Feb 2001 here in Tasmania, Australia a Worldwide Penny Farthing Championships. As part of the event they had some novelty races, one of which was a power assist cycle race.
Here are 2 pics of a Honda 4 stroke, friction roller on the tyre commercial setup.
Pic 1 - Pic 2
This guy and his wife were pitched up against about 6 Sachs IC powered bikes and won easily. (I didn't hear the rules but no-one pedaled) I find it hard to believe these are 200 W as the law states here is Aussie land going by how fast they went. Total cost of bike and unit he said was about $1800 I think. The motor drives a jockey wheel (by belt I think), the drive wheel being a hardish rubber substance but sort of rough and had stringy fibre in it. (or was that the hay from the crash bails on it)
All looked very neat - run real quiet even at full speed and had a lever to lift it off the tyre when coasting.
Latest info from Pedal Ezy 29/5/01- The system comes complete with all components to enable an easy DIY fixing. The unit cost with all components, is $1,310 + gst and freight. If I can assist any further with additional information, please contact me direct - 08 8362 5455 Cheers Peter King
21/7/2001 - Go to an web page with pics, video's etc of a Pedal Ezy installed on a recumbent trike.
Ian Sims
ian@greenspeed.com.au
69 Mountain Gate Drive, Ferntree Gully, Victoria 3156
Phone 03 9758 5541 Fax 03 9752 4115
Greenspeed sell the Heinzmann hub motor kit and for friction 'roller on the tyre' kits both a Honda 4 stroke and ZAP kit.
Sunday, December 03, 2000
From: "Ian Sims" ian@greenspeed.com.au
Sure, it's a very good hub motor, just swap it for your rear wheel, no mucking about with extra drive and it's more efficient than roller drives. It's approx 200 to 400 watts on 24 volts - twist grip control - complete free wheeling. Takes a screw on cluster. Only drawback is price $1,500 with controller. Have a range of speeds, no load at 30 or 25kph. Can run on 36 volts for more speed and power.
Qn: Also do you have any other electric and/or IC systems?
Sure got the Zap system (roller), and also the Honda 22cc four stroke (roller) Usually sell the Honda set up for $1,500, but have one s/h for $1,000. $1,000 for Zap with battery - Heinzmann without.
Date: Wed, 6 Dec 2000
Can I have just a little more info on the hub? Just so I understand it - In total for $1500 you get the hub motor, speed controller circuitry and a twist throttle grip. Is this right?
Yes, that is right.
Can it be spoked for a normal 20" rim?
Yes, its got a 164mm pcd. We use the Araya 7X rim because it has the dimples.
~ Also the Honda 22cc four stroke (roller)
Usually sell the Honda set up for $1,500, but have one s/h for $1,000.
Mounting? (I'm guessing it's a custom mounts you've made that fits on the back of most cycles?)
A pivot mounting so the roller can be swung into the tyre.
Is there a different roller choice for speed?
You could machine more rollers from Al. bar. I think there is a 25mm with motor.
Estimated speed?
Approx. 40 kph - depends on roller size.
Does the mount allow it to be lifted off the drive wheel to freewheel?
Yes, against spring loading.
Martin Martin Arnold,
318 Hamilton Road
Spearwood
Western Australia 6163
Telephone (08)94182757
Mobile 0410682089
Email 1lesscar@dingoblue.net.au

Pictures
Left side view - Right side view
5 th November 2001
We have been running it off and on for about a month, simple friction lever operation against spring loading, good on fuel, no accurate checks yet, top speed about 40 kph, not much in the way of tyre wear, and most importantly, it helps the wife.. This last was the main reason for the exercise, I wasn't really into the idea of producing them for resale, unless someone bought one of our trikes and wanted a motor fitted, then I might think about it.
Greenspeed do or did offer the same motor as an add-on, and I dont hear much about motor assisted Greenspeeds, so I dont think there would be much of a market, and besides the motor used in such a way would bomb out the warranty. A good try and its fun, but maybe not again.
Astec Equipment Services
1213b Sturt St
Ballarat 3350
Ph 03 53324098
Mobile 019 433846
Email: astec@vic.australis.com.au
Alan Strange runs Astec Equipment Services, a company that repairs, reconditions and customises wheelchairs and other disability Equipment. He also recycles electric motors and batteries suitable for Power Assisted Bikes and is a keen HPV builder and electric bike enthusiast. Astec also sell the US Pro Drive electric assist.
Preslite Drive Technologies Pty. Ltd
Email : customerservice@preslite.com.au
Preslite Drive Technologies Pty. Ltd.
PO Box 439
Reservoir
Victoria 3073
Australia
Phone : (+ 61 3) 9460 6566.
Fax : (+ 61 3) 9469 7999
Oz EBike Electric Bikes, Scooters & Hub Motors
Magnus Eriksson
magnus@ozebike.com
http://www.ozebike.com/
Ph 0500 500 028
FAX : 08 9330 1715
Location Attadale, Western Australia
Electronic mail
Information: info@ozebike.com
Sales: sales@ozebike.com
Customer Support: support@ozebike.com
From: "Magnus Eriksson" magnus@ozebike.com
Subject: Hub motor Info
Date: Thu, 14 Dec 2000
Could you please send me some more details?
Try http://www.ozebike.com/hub_motor.htm for more details on the motor. It suits any wheel with 36 spokes. It includes the twist grip speed controller. Yes it takes a standard cassette. I can post it to you for $22 freight. Cost of Hub motor and speed controller $680. 3 left in stock until next shipment in Feb.
From: "Magnus Eriksson" magnus@ozebike.com
Date: Sat, 14 Jul 2001
Sorry but we don't stock e-bikes or hub motors any longer, there wasn't enough interest.
Regards Magnus Eriksson
Ph 0425 700 200
Fax: 03 9772 0911
7 Barnes Grove, Chelsea, 3196
From: "Graham Revill" worldwideev@hotmail.com
Date: Fri, 20 Jul 2001
World Wide Electric Vehicles is indeed the Australian Agents for Toprun electric vehicle equipment. At the moment bicycle hub motors, electric bikes and electric vehicle batteries are the centre of our attention. We sell the motors or complete kits to convert your own bike to electric as well as a range of bikes including a mountain bike, a downhill bike and a high quality stepthrough city bike. I would be delighted to provide photos and whatever details you would like about Toprun products.
6 Pinacle St
Brendale
Queensland 4500
Ph: (07) 3881 1104
Cycles mainly for the disabled rider. Custom built options incl electric and petrol power assist.
Northern Territory Centre for Energy Research
From: Jeremy Williams
Date: Mon, 02 Apr 2001
.............I ended up ordering a direct drive 400 watt motor from the Northern Territory University. Energy Section. You can make motor enquiries to Liz Marshall or Byron.Kennedy, Ph (08) 8946 6386. They have apparently formed a company for the manufacture of direct drive hub and pancake motors. I have been told to expect an AUD1500 price tag for motor, controller in a wheel.
From: "Jeremy Williams" adearthic@hotmail.com
Date: Sat, 27 Oct 2001
Woohoo! The NTU has finally come up with my hub motor! Someone on this board asked me to post when they were ready. email Byron.Kennedy@ntu.edu.au if you want one.
http://ee.ntu.edu.au/ntcer/pdf_docs/aupec99_bk01.pdf
"In general, they peak at an efficiency of around 90%. 12V gives 400rpm, 24V gives 800rpm. 12V version has a 40A current limit, however it is power limited to 200W. The 24V version has a 30A current limit - maximum power I would estimate at ~600W for the 24V version due to the fact that you cannot get full current at full speed. Output torque of the 24V version will be approximately 10N-m.
The 20" rims look excellent - I like the small wheels - also the small wheels will feel better to ride.
Eco-bike Pedal Electric Bicycle
36v Sealed lead Acid battery, Hub Motor.
Western Australia
Ph 0412 813 303, 08 9313 1155
John Sample Automotive Pty Ltd
8 Sheridan Close, Milperra. NSW
2214 Australia
P.O. Box 4126, Milperra D.C. NSW
1891 Australia
02 9772 2666
info@aprilia.com.au
Motorised bicycle kits
I have just been searching in the Trading Post on the Net in all the Australian States looking what is sold at the moment in assisted bicycles. One thing that surprised me was how many are available in the State of Queensland. Anyway... The Ad below was also a revelation - I can't imagine with this sort of quoted speed that these are legal.

Motorised bicycle kits, brand new, do speeds of 40 to 50kms per/hour, can be connected to any bicycle, scooter or racer, no licence or rego required, extremely reliable, $750 EPPING 02-9869 0947
From: Dave Everett
Date: Tue, 23 Apr 2002
Subject: Assist in Australia
I haven't been out to see it yet, but here are the specs: 25cc John Deere 2-stroke engine Friction drive Mounting bracket It comes with a throttle for the handlebars and a clutch lever for the handlebars that allows you to stop at light with the motor running. From what I can gather, the 25cc motor is from a trimmer and hp for 25cc seems to be about 1.3hp which is almost 5 times the legal power in Australia for motor-assisted pedal cycles.
Aprillia Enjoy assist bikes.
210 Days Road, Grange Q. 4051
Ph: 3856 3900
Fax: 3856 3911
Australian Power Assist Web Pages
Project Pandora - a Solar Assist HPV
Alan Leigh's power assist bike
Power Trailer
Putting on a Pedalezy
Close-up's of a US Pro Drive
Zeta Assist
Electric Trike
Other Power Assist Options
This is an excellent survey of electric bikes and power systems available world-wide.
Power Assist web links.
[ Home ] [ Ally] [Stamp FAQ] [ HPV Index ] [ Design overview ] [ Bike 1] [ Bike 2] [ LWB Bike] [ SWB Trike ] [Electrified 20" Tadpole trike] [ Childs Trike ] [ SWB Trike 2 ] [ Electric Trike ] [ RWS Trike ] [Delta Trike] [Childs Hi-Wheeler] [ Bike Trailer ] [Recumbent bike trailer] [Power Trailer] [ Steering Diags ] [ Steering Mounting] [ Kingpin Diags ] [Novel HPV Ideas] [ Australian HPV Resource ] [ Links ] [Power Assist] [ Unusual Vehicles ] [ Electric RC Models ] [ EV Circuit Diags ] [Tas HPV] [QLD PP] [Qld HPV] [Skycycle] [Bleriot] [Building HPV's] [Darryl] [Null Modem] [ Pedalezy ] [ USPD ] [Zeta] [Power Attachment] [Email]